The function of marketing is to help you grow your business. Here's how to go from inconsistent results to reliable revenue, one step at a time.
I've been working with service-based entrepreneurs, coaches and consultants since 2011, helping them to go from inconsistent results to reliable revenue. When I noticed that some of them got excellent results, and others didn't, I started to question my method.
Was the problem on my side, or on theirs?
Since I am a marketing expert, I knew the answer would be found in market research.
20 client interviews later, l found the sweet spot I was looking for.
The key to success
The common elements behind successful entrepreneurs were: knowing how to talk about their solution in a way that didn't feel salesy but attracted the right clients for them, and effortless consistency in their communication.
Once I spotted the pattern, I developed a framework to help all my clients:
● Understand their true magic & how it helps them to stand out
● Talk about it in a way that attracted their just- right clients
● Become consistent in both marketing & closing sales.
Using my framework, The Marketing Puzzle Solution, clients would see their revenue improve. Even the most creative ones (that hate structure) realized they were spending less time marketing their business while getting better results. Not bad, huh?
The Marketing Puzzle Solution is a flexible framework that gives you all the pieces of the puzzle, not just a few of them. It helps you see your business through the eyes of your customers, and stay on course without feeling like you are reinventing the wheel every day. I bet you could use that kind of simplicity and ease, right? ? 😉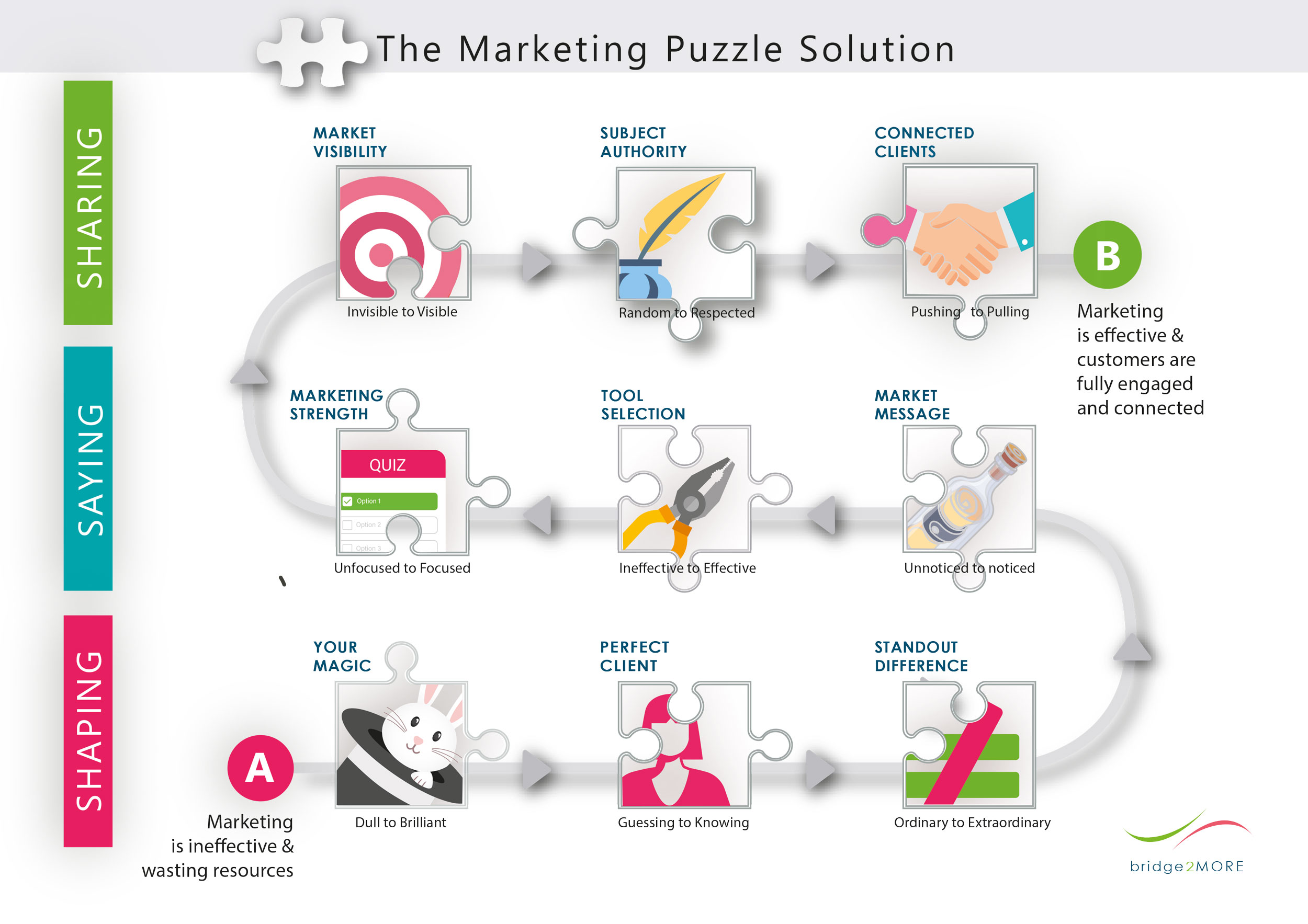 Here it is in short:
1️ Your Magic: Gain clarity on what you really bring to the marketplace, this improves your appeal and gives you the golden key to easily create a vault of marketing assets that are market specific and in alignment with your unique skills.
2️ Perfect Client: Understand what your audience is thinking, wanting, & needing at a deep level – so you can connect with them easily and turn leads into sales.
3️ Standout Difference: Knowing what sets you apart in the eyes of your prospect is key to cutting through the online noise and making it easy to be found and hired! Related: Four ways to make your business stand out
4️ Market Message: You need a sharp and clearly articulated 'pitch statement' that immediately connects you with your Ideal client while coming across authentic and on point (and without being salesy.) Related: The trickiness of the What do you do question
5️ Tool Selection: over the years you have created various marketing tools (website, bio, landing pages, infographics, you name it). Some of them might be doing the heavy lifting for you, and some just aren't. Regularly assessing the quality of your marketing tools is a step many entrepreneurs overlook and is a hidden efficiency drainer!
6️ Marketing Strengths: leveraging your natural skills when marketing your business is what helps you to develop a natural consistency without feeling inauthentic or salesy. Related: Discover your natural marketing strenghts
7️ Market Visibility: a tailored strategy to effectively market according to your strengths & preferences – so you always know where you're going and it feels right for you.
8️⃣ Subject Authority: when all the previous elements are in place you will shift from being uninspired about content creation to being able to create content easily and naturally without panicking or your mind going blank. Remember: content drives revenue.
9️⃣ Connected Clients: conduct your discovery calls with confidence and deliver value without giving away the farm.
But wait a minute,  what about all the other marketing things like the offer,  funnels, free resources, campaigns, landing pages, email marketing, etc?
Good question! Everything stems from these foundational elements.
To create a winning offer or a good lead magnet you need to understand how your perfect clients think & act, what they really need and how your solution meets that need (your magic, perfect client, marketing message & stand-out difference in the roadmap above).
To create content (blog, landing pages, free resources, website, signature talk, podcast, videos, guest appearances) you need to know your customer and how they talk about their problem so that you use a language that resonates with them (your magic & perfect client, subject authority).
To consistently show up for your business, you need to be aware of your natural marketing strengths, because if you copy someone else's tactics they may not work for you.
To achieve your business goal$ you need a marketing strategy (and not only tactics). In other words, the plan of what you need to do to achieve your business goals and how will you do that so that:
-you never find yourself asking what to do?
-you do stuff that's aligned with your strengths & goals
Hence you become consistent and enjoy marketing your business
Got it?
What makes it work?
When you follow the steps in the Marketing Puzzle Solution, you will:
✔ Capture your prospect's attention
✔ Build trust by speaking directly to their needs and motivations
✔ Position yourself as an expert
✔ Be consistent & stand out
✔ No more re-inventing the marketing wheel every blasted day.
Interested in finding out how you go from inconsistent results to reliable revenue?
Connect with me on Linkedin or book a complimentary virtual coffee call. I will help you understand where the gaps are. No strings attached.
Hi, I am Claudia Schalkx
a multilingual marketing strategist for established entrepreneurs, coaches & consultants who want to go from inconsistent results to reliable income, and market their business without overwhelm.