Located in the Netherlands, Keukenhof is the largest flower garden on earth. In March 2022 Keukenhof opens its doors to the public for the 73th time. This park opens only for eight weeks every year and gets 1 million visitors from all over the world. In other words, they have limited time to create profits and have figured out how to attract an increasing number of visitors each year.
Time to learn from the masters!
Five Marketing Lessons from the Keukenhof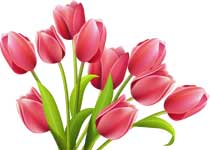 1.- Use their window of opportunity to the max
This park is "limited" by the short span of a blossoming event. Instead of freaking out and looking at what is not possible, Keukenhof leverages on this apparent obstacle. They plan in advance what they will offer to the public every opening season, close deals with bulb providers and other third parties in advance, decide on the yearly theme by the end of the previous opening season and plant the bulbs each autumn. Though the park opens only from March to mid-May, they release news throughout the year to the media and subscribers to keep the anticipation growing.
Marketing wise this means:
Work with a strategy with short, medium and long-term business goals, and not only tactics.
Keep a pulse on the market identifying trends and assess how you can cater to those needs with your products and services.
You also have a system in place to stay in touch with your (potential) customers and to grow the relationship (aka blog and newsletter)
Bring your product/service to the market even if it's not perfect. If you are in doubt about the quality of your product, then carry out a beta test to iron out eventual imperfections in your concept. But by all means, do not let it die in a drawer waiting for the perfect moment, perfect version, perfect client. If you do not bring it out, test it and improve it, it will never get any close to any form of perfection.

2) They have a clear mission, and they stick to it
Keukenhof is the platform for the Dutch floricultural sector, with a particular emphasis on flower bulbs. They organise a series of events where buyers can network with bulb producers. Everything they do is in function of this mission. They also have a significant role in the promotion of tourism and thus have several things in place to cater to the public.
Keukenhof is clear on who their target audience is – wholesalers and tourists, what they are looking for (high quality bulbs, trendy parks) and what satisfies that need. They adhere to their mission and don't try to cater to everybody. They have a message tailored to their specific audiences. When you plan a visit to the park, you know you will see millions of blossoming tulips arranged in the most creative combinations. Nothing else. The tulip, and through it, the Dutch floricultural sector, stand central.
For you, as a small business owner, this is a reminder that if you want consistent results, you can't (and shouldn't) shout your message from the top of the roof to every passer-by. You need to be focused. You need to find the group or groups of people that are primed to listen to you and to buy your product or service – your target group or groups. Then you need to study them carefully. And you need to be clear on what is that you are selling.
This is something that is easily forgotten as time goes by. And in particular, if our marketing isn't working quite the way we want it to, it is tempting to branch out and start talking to just about anyone who will listen (or not listen, as the case may be).

3) They know how to Evergreen
Ok, not the bulbs which are destroyed at the end of the season. But come to think of it, these folks have mastered evergreening the concept of the park. They reinvent it with annual themes following trends they've identified in the market and creating new varieties of tulips and other bulb flowers such as lilies and hyacinths. And it must work, as since 2014 they have consistently attracted a million visitors each year and are now open for the 73rd time.
Think of your best creations.
The best blog you have written, the best piece of advertising, your best product/service, and ponder how you can evergreen them whether it is with small tweaks, distributing them in a different format, upping its added value, take it at a notch higher with VIP service. You do not need to continually create new stuff, but you need to know how to market the best you have to offer. In that fashion, you keep your costs in check, leverage on what you have invested already and have more time to dedicate to your core business.

4) They know where to put the most intense effort
Each autumn, the gardeners plant 7 million bulbs, by hand, in an entirely new design. It takes about three months. The bulbs are selected to bloom throughout the eight-week opening period.
Stop for a minute and let this sink: 7 million bulbs are planted by hand. That is pretty labour intensive!
That is how Keukenhof guarantees bulbs will be planted the right way, the designs will bloom as they are intended to, and the park will be ready to welcome visitors from all over the world. They put their hardest work on their core business: promoting the tulip and the bulb flower growers sector. They do not take chances here.
Take the time to create products and services that align with your mission and solve a problem of your target audience. This is the core of your business. Know what you can automate, and what needs your personal attention. Know which are the bulbs you need to plant by hand.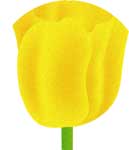 5) They let you know the product and fall in love with it over and over again.
Keukenhof has pavilions with flower arrangements and workshops, flower parades, events, little shops where you can place your order and get the bulbs shipped to the city of your choice. All over the park, you have lovely spots where to take that different picture with a beautiful flower arrangement.
If you are a wholesale buyer or if you are an individual the park offers you plenty opportunities to see tulips from really close, check the quality, learn the trends, make pictures, inquire, and ultimately buy.
Offer your clients different venues to get to know you and your services. A blog is a wonderful way to do so (and also helps to build authority),  combine your blogs with webinars or mini courses,  support your sales pages with testimonials, give your subscribers unique content and previews, create opportunities from them to get to know you and your services.
Conclusion
Whether you are a small company or a large one, the marketing principles to follow are the same: know your client, deliver on your promise, take care of the details, give your prospect client enough opportunities to get to know you and your product or service before making a commitment and walk the talk. When you manage your business with these principles, you will succeed.

Interesting things about Keukenhof
Keukenhof is the largest flower garden on Earth, with approximately seven million bulbs with a total of 800 varieties of tulips, covering an area of 32 hectares (79 acres).
Opens only eight weeks each year from mid-March to mid-May, with the flower-viewing peak in mid-April. And, in that time, welcomes around one million visitors.
2022 marks the 73rd opening of the park to the public. The mayor of Lisse organised the first Keukenhof exhibit in 1949.
The windmill at Keukenhof is more than a century old. It was built in Groningen in 1892 and was used to pump water out of a polder. In 1957, the Holland-America Line bought the mill and donated it to Keukenhof
There are about 30 full-time gardeners, who work year-round at Keukenhof.
Not only tulips…
Keukenhof has reserved the thousand square meter Beatrix Pavilion specifically for orchids. This show is the most beautiful orchid show in Europe.
The park is home to the world's largest lily show, during the last ten days of the opening season.
Keukenhof & The World
Approximately 75% of visitors come from abroad, with the most significant growth in the number of tourists from America, China, India, and South East Asia.
The website of the highly regarded travel guide, Lonely Planet, opens with a feature on Keukenhof. Wikipedia has just one photograph of the Netherlands: Keukenhof.
3istory of Keukenhof
The history of Keukenhof, the name meaning "kitchen garden," goes back to the 15th century. Countess Jacqueline of Bavaria, Jacoba van Beieren (1401-1436) gathered fruit and vegetables from the woods and dunes for the kitchen of Teylingen Castle. Keukenhof Castle was built in 1641, and the estate grew to an area of over 200 hectares.
Landscape architects Jan David Zocher and his son Louis Paul Zocher, who also designed Amsterdam's Vondelpark, redesigned the castle gardens in 1857. That park, in the English landscape style, still forms the basis of Keukenhof.
In 1949 a group of 20 flower bulb exporters came up with a plan to use the estate for a permanent exhibition of spring-flowering bulbs, signaling the birth of Keukenhof as a spring park. The park opened its gates to the public in 1950 and was an instant success, with 236,000 visitors in the first year alone. In 2022 the 73rd edition of Keukenhof is taking place, with Flower Classics as its theme. During the last 73 years, Keukenhof has grown into a world-famous attraction.
Source: Keukenhof.nl