Unless you've had your head in the clouds for the last few years, you have a grasp of the concept of "content marketing". It is about consistently providing attention-grabbing, educational material to engage a prospect and encourage him or her to move onto the next phase of the sales process.
From that point of view, the role of content is to support your small business goals.
Hence, your content should be intentional, not random.
After all, you can't leave the success of your business to chance. You want to sit on the driver's seat!
If you are doing it right, generating and managing content is hard work. So you need to look for ways to squeeze more juice out of your efforts.
Today I want to talk about an element that can exponentially increase the results of your content marketing: Context.
What's the big deal about Context?
In a nutshell, context is about providing critical information in such a way as to enable readers or viewers to understand the real use of the concepts you are bringing forward. In that fashion, content becomes genuinely relevant.
When you have context around something, you have a larger, more telling picture. It's about those little details that help lend more clarity to things that would otherwise be pretty general and irrelevant.
In other words: Context makes your content go the extra mile.
It helps you reach more people and grow your audience which in turn, boosts your bottom line.
In marketing, context is about giving all the pieces of the puzzle, so that your potential clients understand where this content lives in the solution you are looking to sell, or in the problem he/she is looking to solve. To do this, you yourself need context, which in this case would be to know how, when and where are our products or services used.
Many entrepreneurs intentionally leave the context out, in fear that people will figure it out and do it on their own, hence why so many free resources fail in doing the job they are supposed to: getting you qualified leads. But what happens is that your potential clients do not know what to do with that piece of information you gave them as, well, they may lack the context. As you see, not providing context fires back.
What gives teeth to your free resource is putting it into the context of the whole solution; this is, the roadmap your client has to walk to go from A to B.
For instance, this is the roadmap I use to help my clients to go from fed up and leads trickling in, to a steady pipeline of qualified leads. The content I create is in the context of my solution. I am showing my solution in its entirety, not only part of it.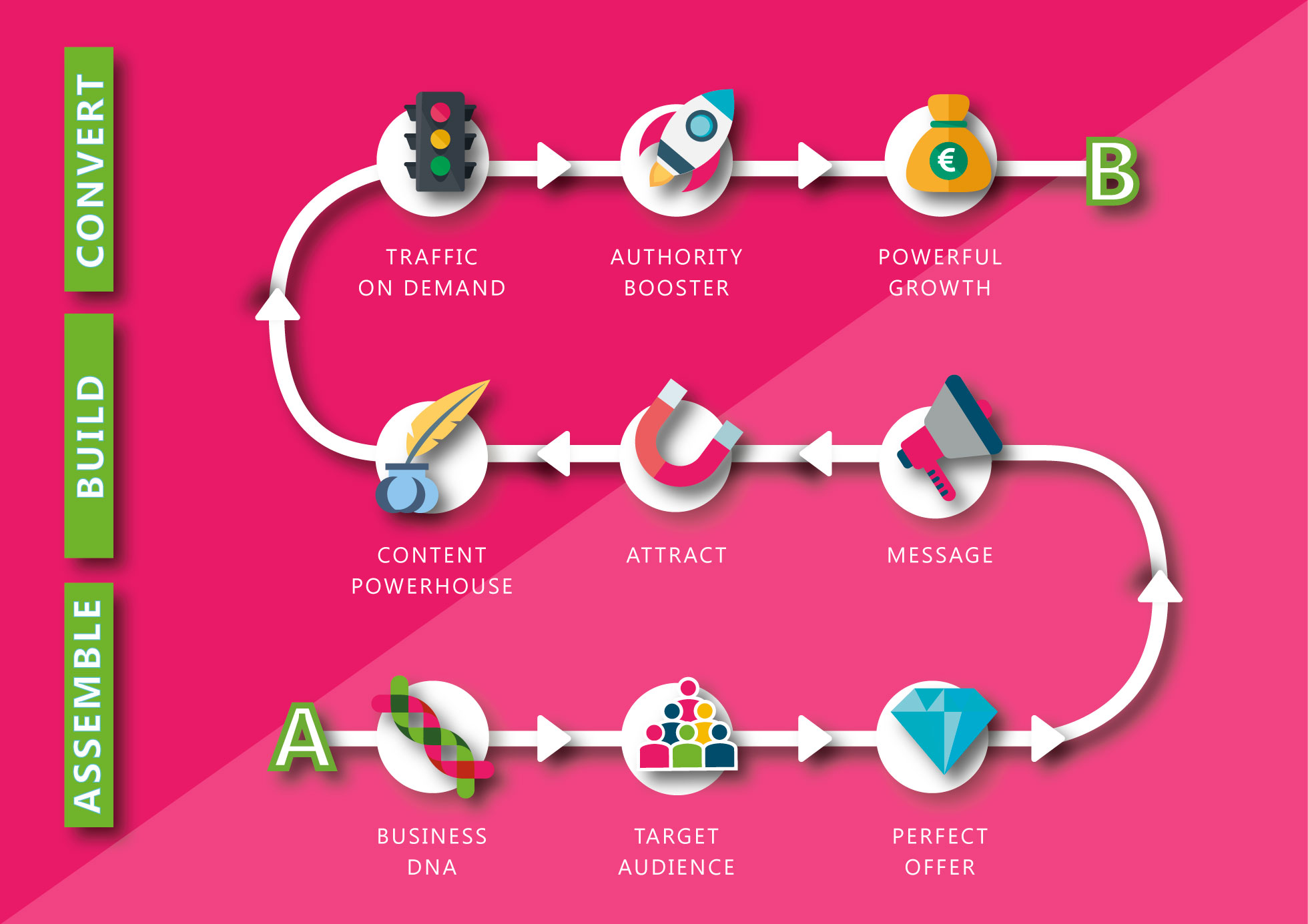 I use this roadmap as my lead magnet and in conversations with clients. In that fashion, they know what needs to happen, and where are they on their path to solve their biggest problem. They see where the information there are getting fits in.
We should always focus on what people are looking for and why we're creating something [our business goals] because where those two elements meet is where the most successful content lies. Don't get me wrong: There are other essential elements, of course, like quality backlinks and keyword optimization, adequate distribution, which can significantly boost your chance of ranking highly.
But context should always be the foundation you're building on.
When every piece of content that you put out is within a context that allows your potential client to understand how to use it, where to apply it, and what role that content plays in the overall picture, then you are serving your client and working to grow your business.