Coaches, Consultants
& Service-based Entrepreneurs
How to Double (or Triple) the Clients You Get From Discovery Calls without Feeling Awkward and Pushy
No scripts – No pressure
And it works!

Are you absolutely DONE with aggressive sales tactics that leave your prospective clients looking for the most creative way to end the conversation?

Would you do anything to get rid of the icky feeling that comes when your discovery call script makes your client look confused and unhappy?

Does the thought of another awkward discovery call make you want to hide under the bed?
If you answered yes to any of these, you are not alone …
you see, only a few years ago, I was in the exact same position.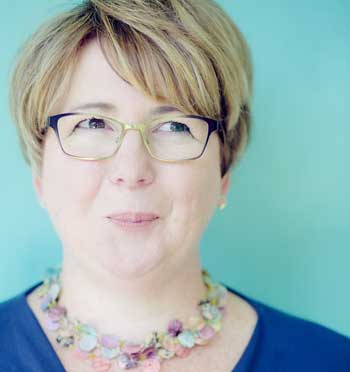 I didn't always look forward to discovery calls, and certainly I didn't always have a high conversion rate.
In fact, I dreaded them. I either rushed to deliver my pitch or delved into a long question list that made me lose focus and exhausted the would-be client. And when the moment came to talk about the possible solution, I didn't seem clear and capable. My client-to-be would find the most creative ways to end the conversation. That increased my despair and left no path to a positive follow-up call. All the work to get the ideal client on the phone vanished a few minutes into the call!
Knowing I was letting profitable business slip through my fingers, I pored over all the call recordings, looking for patterns in the problems. I took those insights and turned them into a brand-new approach to discovery calls. And when I started to implement this approach, my conversion rate immediately doubled from 40% to 80% –almost overnight
And now I want to share the exact same method with you so that you too can get the same results. But before I do that, let me talk about the REAL issue here.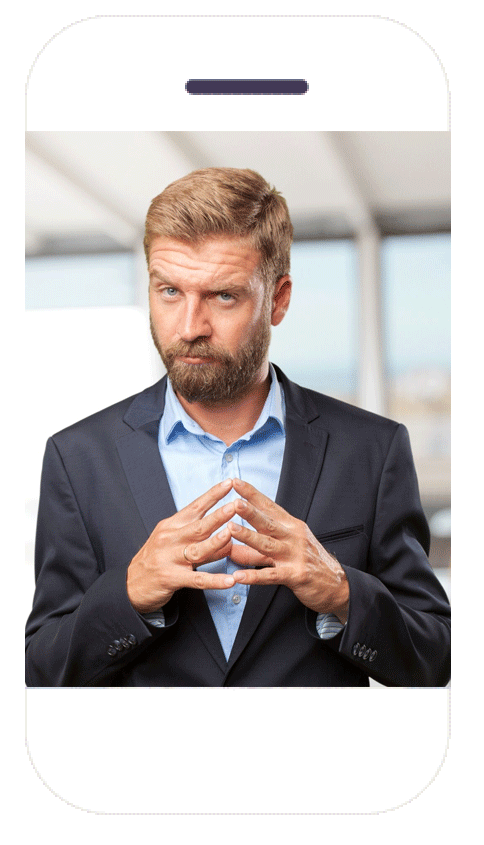 Do you know what the REAL problem is?
That scammy salespeople have ruined the reputation of discovery calls with their high-pressure sales techniques and client manipulation.
Good clients don't want to be pressured or manipulated, so they come to the call suspicious and defensive. That defensiveness makes you nervous, and nobody gets what they need from the call.
If you are one of the thousands whose discovery calls have been derailed by these slimy salespeople …
…you gotta stop that right now!
There is a better way….
And the better way is…
One that frees you from scripts, and pressure tactics and that feels natural for you so that you conduct discovery calls with success.
Introducing
The Discovery Call Mastery
a 90-minute LIVE Workshop, that will transform your discovery call conversations without scripted dialogues or aggressive sales tactics.
December 7, 2023 –
18hr Central Europe- 9am Pacific – 3pm Eastern
This isn't about changing who you are;
it's about enhancing what makes you unique.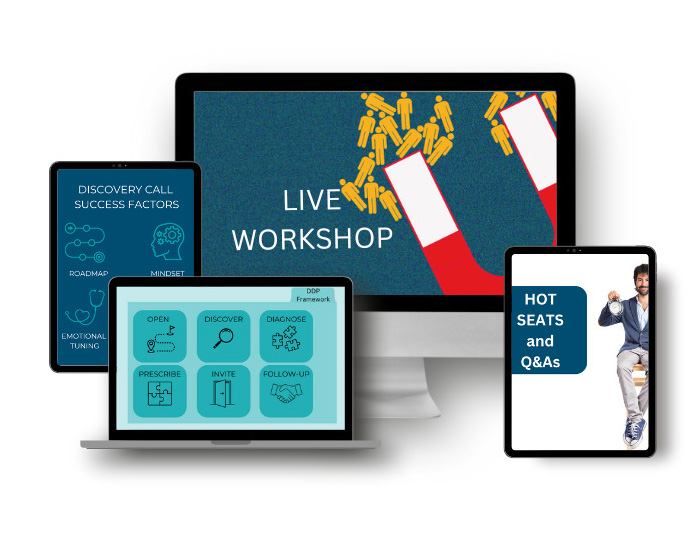 You will walk away with these assets:
You will walk away with these assets:
Transformational System:
A conversation roadmap (NOT a script!) designed to double your conversion rates, tailor-made for your brand's unique essence.
Enhanced Sales Techniques:
Learn how to build connections that matter by engaging effectively without any perceived aggressiveness.
Mastery without Scripts:
Discover how to conduct discovery calls without sounding scripted or sales-y, naturally showcasing your personality while delivering value.
Leveraged Existing Identity:
You will translate your brand's wisdom, expertise, and authority into a powerful image that resonates with your prospects, thanks to this truly different way of conducting calls
And if that wasn't enough…
During the  Discovery Call Mastery Workshop LIVE! you will experience:
Mindset Shifting:
So that you don't sabotage the call before it begins
.
Live Hot Seats & Q&A:
That demonstrate how the method works in real life. Bring your doubts and questions! I welcome them!
.
Emotional tuning:
So that you can calibrate your feelings to match your client
.
Demonstrate the value of your solution:
So that the client's next question is "When can we start?"
Want to double your conversions
from discovery calls?
Register today!
The Discovery Call Mastery Workshop is in
How do I know if this course is for me?
This Offer is For You if You…
-Are a coach, consultant or service-based entrepreneur with no less than 2-3 years in business and use discovery calls to convert leads
– Want to humanize sales calls and connect authentically with potential clients.
– Crave a way to convince prospects without feeling pushy or scripted.
– Despise following rigid sales pitches and believe in personalizing conversations.
– Are eager to turn potential clients into lifelong advocates of your service.
This May Not Be for You if…
– You thrive on aggressive sales techniques that verge on pushiness.
– Have a flawless track record in converting leads during discovery calls.
– Are not open to change and improvement in your sales approach.
How will you deliver the workshop?
The  Discovery Call Mastery Live Workshop will be delivered through Zoom.
You will receive a link a couple of hours before the course
The workshop has a duration of 90- minutes.
If you haven't used Zoom before, please make sure to create your free account before the workshop.
Zoom Set Up Instructions:
Go to Zoom.us
In the top right corner select  Sign up, (it s free).  This will prompt you to put in your email address.
Zoom will then send you an email where you can click to  Activate Your Account .
Once you do this, you will be directed back to Zoom.com and prompted to fill out your name and password.
If you are new to Zoom, be sure to run a test meeting before the event. You can do that here: https://zoom.us/test.
If you have questions, you can check out the Zoom support feature or reach out to me claudia@bridge2more.com
At what time will the Workshop start?
At what time will the Workshop start?
The workshop will be on December 7 and starts at 6 pm Central Europe Time.
For local times check here
Can I get access to the workshop recording if I miss the live session?
The value of the workshop lies in the live interaction and tailored guidance provided during the session, therefore We won't be providing recordings of the live workshop. 
What happens if the workshop is postponed or cancelled?
In the rare event of a workshop postponement or cancellation, rest assured that registered participants will be promptly notified, and suitable arrangements will be made. Your satisfaction is my priority.
Can I transfer my registration to someone else?
Absolutely! If you're unable to attend, you can transfer your registration to another person. Just inform me at claudia@bridge2more.com with the details, and I'll assist with the transfer.
What is your refund policy?
My question is not listed here
Feel free to reach out at
claudia@bridge2more.com
for any further queries or clarifications.
I am here to ensure your workshop experienceis seamless and enriching.
Still on the fence?
I've been helping service-based entrepreneurs for over 15 years to simplify their marketing, freeing them from cookie-cutter tactics that have eaten their money and given them zero results.
Here's what they have to say:
"I worked with Claudia to create my signature system, so I was thrilled to see that she had created a training on discovery calls. As a business coach and strategist who uses discovery calls to screen and enroll clients for my signature system, I wanted a simple, strategic approach that would increase my conversions without making it feel like a sales call. Claudia delivered that and more.
Her approach to discovery calls gave me new insights about missed opportunities and simple changes I can make that will not only increase the likelihood of success but will make the discovery call process feel more comfortable for both the potential client and myself.
The hot seat feature of the training also helped me figure out the question I need to ask at the beginning of my discovery calls which helps me to determine if the client is right and ready. I've been in business for a while, but asking this question never occurred to me.
My next discovery call is tomorrow, and I can't wait to implement what I learned in Claudia's training."
"Discovery calls can be frustrating, especially with clients who are unsure of exactly what they want when the call begins. The workshop was really helpful because it gave me simple strategies for improving the way my discovery calls go, including concrete ways to ensure that I am in control over the process.
I also appreciated the reminders about how to help my prospects get some clarity during the call about what they want and need."
"Claudia helped me truly understand my ideal customer and how to communicate and engage the right clients through my marketing efforts. Claudia has vast experience and knows how to translate it into actionable content, tools, and tips that I can implement immediately to speed up my company's growth and success."